Book on Protection of children on Internet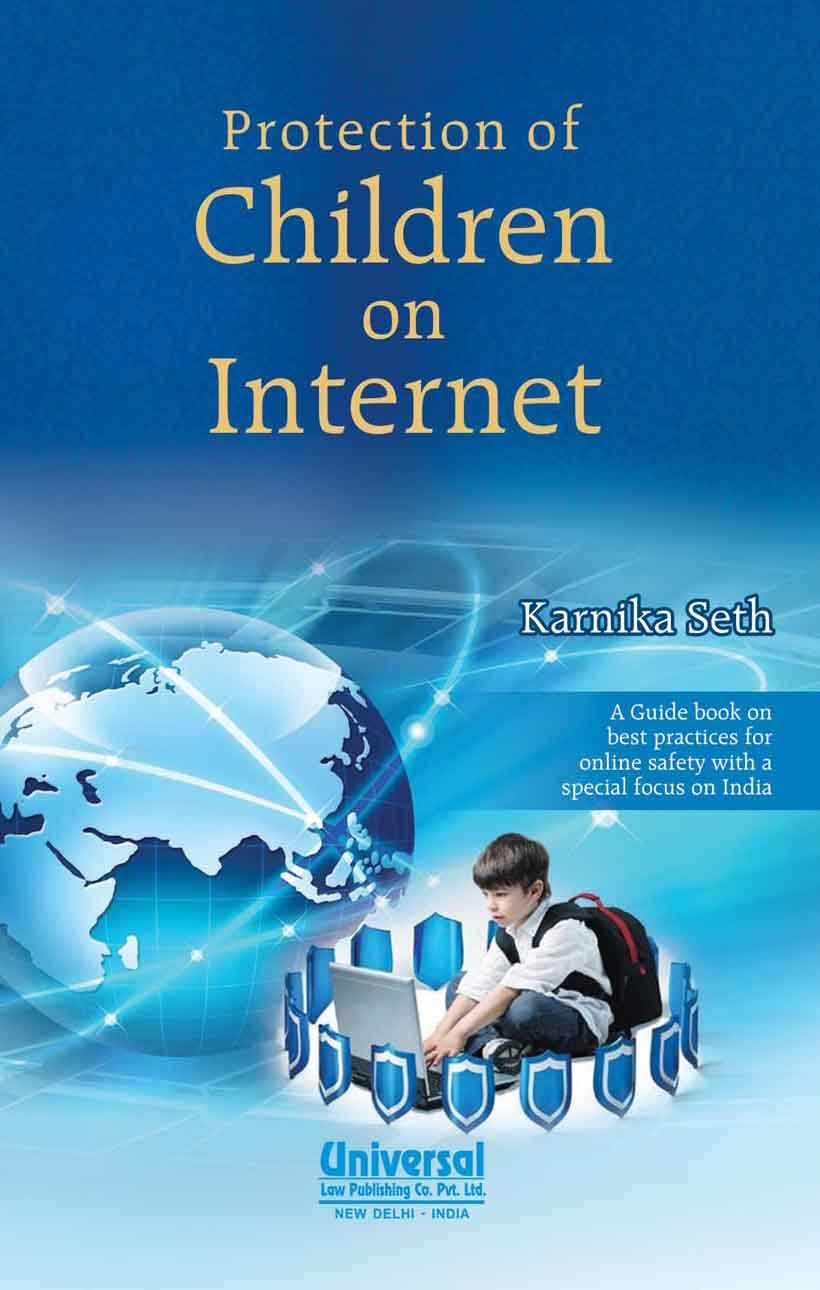 The book deals with the vital humanitarian subject of child protection on Internet.Authored by Karnika Seth, acclaimed cyberlaw expert & Educationist, the book is a simple guidebook that aims to provide useful information and tips to parents and children, educators, law enforcement, legislators, NGOs and ,International organizations and Governmental agencies, on how to safeguard children on the internet and combat online child abuse. The Author has very vividly used Illustrations, examples, case studies to explain various threats children face on Internet such as cyberbullying , cyber grooming and child pornography and from her practical experience shared valuable tips on how to prevent and combat threats children face online.The book discusses the existing Indian laws that protect children in cyberspace, particularly POCSO Act, 2012 and IT Act, 2000 and the National initiatives adopted in India to protect children from online abuse. The author draws examples from other countries such as US and Europe including U.K and initiatives made by International organizations to combat online child abuse.The Author has made some pertinent recommendations on various techno- legal and social measures that can be adopted for safeguarding children on Internet.
The book is written in a very simple manner with an easy glossary of important cyber terms for readers who may not be very familiar with technical jargon of cyberspace. The book will be of immense use to parents, educators, children, judiciary, lawyers, law firms, law libraries, Police, Investigation agencies, international organizations, Non governmental bodies, industry associations, ITES companies, IT Professionals and law students.
This book won the Digital Empowerment Award in 2015.
Book Review: Protection of Children on Internet by Karnika Seth (Universal Law Publishing, an imprint of LexisNexis, 2015, Rs. 250) By Debarati Halder
Internet and digital communication media including mobile phone messaging services have proved to be a great boon for human society. But technology, especially digital technology has its side effects too. Children are the most vulnerable group who may have to suffer the negative effects of advancement of internet and digital technology. Not very long ago it was reported that one Yadava Manikanta created a Facebook page to upload and share images of children reportedly for sexual gratification. He was arrested under POCSO Act and also under Tamil Nadu Goonda's Act for creating/distributing child porn materials in the electronic media. Such victimization of children in the internet was again noted within a couple of months after sentencing of Manikanta, when a 19 year old boy from Pollachi, Coimbatore created a similar page in Facebook with images of girl children and sexually explicit comments that made the page a typical web-page for catering the needs of sexual gratification abusing children. Such incidences are growing in India. But it would be wrong to say that children are victimized only by way pornography in the internet. There are various issues which may need to be seen when speaking about protection of children in the internet. Karnika Seth's book "Protection of children on internet" published by Universal law publishing, an imprint of LexisNexis, caters this need.
This book is divided into seven chapters, has uniqueness: the images to explain the crucial problems in a child friendly way. In the introduction, the author shows the statistics of child users and introduces the readers briefly with the impact of internet on children. The second chapter deals with online threats to children. The author discusses about types of offences that may happen to children including sexual offences. This chapter also speaks about gaming and its effects on children. The third chapter showcases some examples of child abuse on internet. It has recent as well as old cases of cyber crimes against children, each of which created unique understanding of the issue in its own way. Chapter four provides a holistic approach to the guidelines that must be followed by parents and children while surfing the net. It needs to be mentioned here that this chapter is a must read for all readers including school managements, parents as well as matured teens who may understand the issue. Chapter 5 is a legal researcher's delight. It elaborates the laws that are presently being used to prevent child abuse on internet. These laws and legal provisions include constitutional provisions, National policy for children, Convention on child rights to provisions from Indian penal code dealing with child rights and child abuse especially in relation to digital media, Information technology Act, 2000(Amended in 2008), POCSO Act, Juvenile Justice Care and protection Act, provisions from different laws in regard to economic crimes, intermediary liability etc. This chapter along with all these provisions are must read for stakeholders including the police, lawyers, judges, child welfare committee members, Juvenile justice board members, child line volunteers, teachers and of course the parents who may have come across any incidence involving crime against children on internet or may want to be aware of such issues. Further, I feel matured teenagers of the age group of 16 to 19 must also know these laws and this book is the best way to learn about these laws.
The sixth chapter discusses about international initiatives that have been taken to safe guard children on internet. This includes discussions about organizations including the UN, OECD, ISPCAN etc. This chapter also discusses about initiatives taken up by countries like US, UK etc in this regard. The seventh and the last chapter of this book has author's personal touch whereby she discusses her own views to tackle the issue. It needs to be understood that even though there exists many guidelines or safety tips in regard to safety of children on internet, none of them may prove fruitful unless the stakeholders accept to follow these guidelines and make their own unique policies to suit the needs of the society or environment they are working for. This chapter emphasizes on this issue. The author further highlights the needs for constant collaboration among the stakeholders including schools, parents, government and NGOs to create awareness for this. At the end, the book gives a list of cyber crime cells in India, a rich bibliography and the full texts of Information Technology Act, 2000( amended in 2008) and Protection of children from sexual offences Act, 2012.
The designing of the book, packaging, framing of the chapters and usage of images, make the book a unique one. Most importantly, the pricing of the book makes it affordable for all educational institutes, criminal justice academies and general individuals who would be interested in reading about the issue.